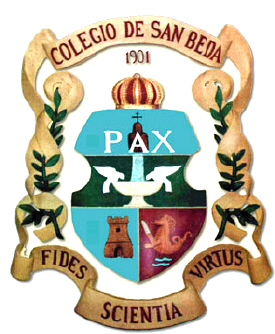 * Bedista ka ba?
- Pureblood Bedan (GS,HS,College)


* Anong year and course mo?
-
College of Arts
& Sciences Degree Holder ata ako..wahahaha


* San ka madalas tumambay?
- Sa covered court during my younger years before they replaced it with a gym
* Snack bar o Dom?
- We simply call it "Cafeteria" back then

* Alam mo ba kung bakit pogi lane ang tawag sa pogi lane?
- To entice passerbys.."Pogi, burger ka dyan!!"

* Close ba kayo ni Mang Roger?
- Sino ba hindi ka-close ni Mang Roge =)

* Nanonood ka ba palagi ng NCAA kahit hindi required?
- Ever since HS..sweet di ba? Back to back!

* Gwapo ba si Pong Escobal?
- Hihihi. .di hamak naman..

* Eh si Sam Ekwe?
- Ang galing magbasketball ni Sam Ekwe!

* Sa tingin mo, "skwater" ba talaga ang Letran?
- Of course not..they gave a good fight last finals..itigil na natin yung asaran..sino mas "squatter" kapag pumapatol?
* Ano dapat "Beda" o "San Beda"?
- Don't even get me started on this one..it's "SAN BEDA" not Beda! X-(

* Kung bibigyan ka ng 1.0 sa major mo pero gagayahin mo ang hairstyle ni menor, payag ka?
- Ilang majors? bat hindi? it'll grow back, right?

* May kaaway ka ba sa San Beda?
- Petty fights and teasing..nothing serious!

* All boys o Co-Ed?
- Not like we can do nythn about it..but I miss traditional San Beda

* Tingin mo bakla si Matitu? Bakla ba?
- Hahahaha! Itim ba uwak?

* Bakit lahat ng may laptop nasa St. Maurs?
- Ngaun na lang nauso yan..nuong araw Magic cards lang okay na ang St. Maurs

* Kaya mo ba i-translate ang Indian yell sa Tagalog / English?
- Hindi..basta unique yun and I'm proud of it..

* Kung hindi ka Bedista, ano ka?
- Errr..honestly..euggghh..LSGH!
* Ano ang sigaw ng Bedista?
- For San Beda, our country, and God!